"Under normal circumstances, a photographer is the author of his or her photographs. But, as with any general rule, exceptions exist…." Natkin v. Winfrey, 111 F. Supp. 2d 1003, 1008 (N.D. Ill. 2000) (Castillo, J.) (internal quotation omitted) (citing Burrow– Giles Lithographic Co. v. Sarony, 111 U.S. 53, 60, 4 S. Ct. 279, 28 L. Ed. 349 (1884)).
Even where you use someone else's camera to take the photo, you presumptively are the one who actually created the work and own copyright in those photos. Cmty. for Creative Non-Violence v. Reid, 490 U.S. 730, 737, 109 S. Ct. 2166, 104 L. Ed. 2d 811 (1989); see also Schrock v. Learning Curve Int'l, Inc., 586 F.3d 513, 524–25 (7th Cir. 2009) ("[A]s the creator of the photos, Schrock's copyright arose by operation of law.").
However, if someone else directed and controlled the taking of the photo, such that you simply pressed the camera's button at someone else's direction; then that someone else might own the copyright. Aalmuhammed v. Lee, 202 F.3d 1227, 1234 (9th Cir. 2000) ("[A]n author superintends the work by exercising control. This will likely be a person who has actually formed the picture by putting the persons in position, and arranging the place where the people are to be.") (internal quotation marks, citations and modifications omitted).
Also, if you and the camera's owner intended to be joint authors of the photo at the time it was created, and their contributions were independently copyrightable, then there may be joint authorship (and joint ownership) of the resulting copyright. Natkin v. Winfrey, 111 F. Supp. 2d at 1010.
Photos with Celebrities
In Shah v. NYP Holdings, Inc., No. 1:21-cv-06148, 2023 WL 266511 (N.D. Ill. Jan. 18, 2023), Plaintiff Shah attended Hollywood events where he met, and requested to take photographs with, many celebrities.
Shah alleged that he brought a phone or a camera to these events, having pre-selected many of the camera's settings, such as shutter speed, white balance, ISO, metering type, and exposure value. Shah asserts that he would pose himself and a celebrity and hand his phone to a friend or bystander to take the photograph. He maintains that he was the sole owner of the camera, never gave creative control to the photographer, and immediately took the camera back into his possession after the photograph was taken.
Shah later obtained a copyright registration and sued media entities that had republished those resulting photographs.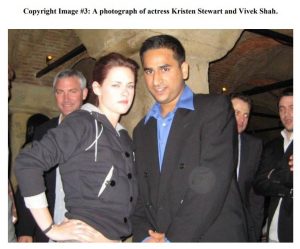 (photo from Shah's complaint, courtesy of Eric Goldman's blog)
The Court, however, ruled on a motion to dismiss that Shah was neither a sole nor joint author of the photos because others, not Shah, pressed the button to take those photographs.
Shah contends in the alternative that ownership of the photographs transferred to him by "operation of law" when the photographer handed him back the camera. Copyright ownership can be transferred "in whole or in part by any means of conveyance or by operation of law." 17 U.S.C. § 201(d). But Shah's sole cited case does not explain how simply taking the camera back into his possession constitutes a transfer by operation of law. See Brooks v. Bates, 781 F. Supp. 202, 205 (S.D.N.Y. 1991) (discussing how transfers by operation of law are "limited" and examples include "proceedings in bankruptcy and mortgage foreclosures"); see also Software for Moving, Inc. v. La Rosa Del Monte Exp., Inc., No. 07 C 1839, 2007 WL 4365363, at *3 (N.D. Ill. Dec. 7, 2007) (Gottschall, J.) (same). Therefore, Shah has not alleged that he was transferred copyright ownership, either.
Shah contended that his copyright registration was prima facie evidence that he owned a valid copyright, but the Court found that his complaint lacked allegations suggesting authorship or a transfer of ownership. Thus, the Court dismissed the copyright infringement claim because Shah did not own the asserted copyright.
Professor Goldman's Comments
In his Technology & Marketing Law Blog, Professor Goldman commented that "at most, Shah has a non-exclusive license to those photos, so what are the terms of those licenses and could Shah potentially infringe the owners' copyrights by posting them?" He also referenced Hubay v. Mendez, No. 2:19-cv-01327-NR, 2020 WL 6694406 (W.D. Pa. Nov. 13, 2020), in which a group photographer documenting the group's activities at the group's request, and the court held that the copyright was owned by the photographer, and not the group. Profession Goldman noted that "if you ask someone to take a photo on your phone, and you want to own those photos so you can sue over any unwanted uses of the photos, you need the button-pusher to sign a written agreement transferring their rights to you."
Thomas P. Howard, LLC litigates copyright cases nationwide including in Colorado.