Dynamic keyword insertion ("DKI") is a form of pay-per-click advertising that inserts a purchased keyword into the content of a search engine ad when that keyword happens to be used in someone's search query. While an effective way to automatically update search engine advertising copy to include a purchased keyword that matches a searcher's query, it also can lead to litigation when the purchased DKI keyword is someone else's trademark.
In Porta-Fab Corp. v. Allied Modular Building Systems, Inc., 2022 WL 4596646 (C.D. Cal. July 24, 2022), the defendant, Allied, purchased a competitor's trademark, "PortaFab," as a keyword, which typically is not actionable, but the "PortaFab" keyword was inserted into search engine ad that appeared with search engine results using that keyword.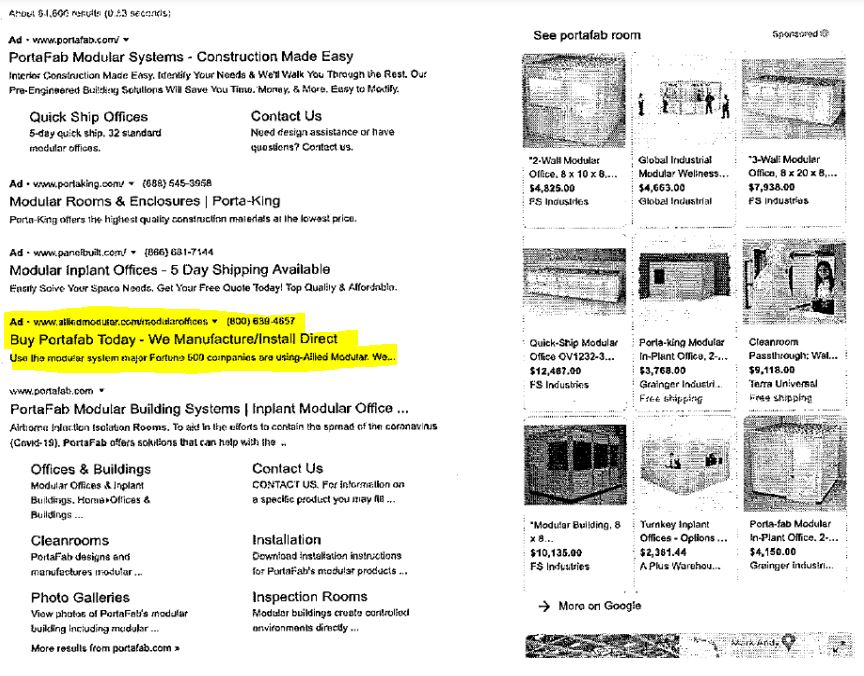 Because the ad copy literally included Porta-Fab's trademark, Porta-Fab filed a trademark infringement lawsuit against Allied. In denying a motion for summary judgment filed by Allied, the court found there were triable issues.
Unlike in other keyword search cases where likelihood of confusion was not found, this case involves a competitor who did not just incorporate a competitor's trademarked name as a search term, but rather used a phrase in its Google Ad that essentially told consumers it sold PortaFab products. Specifically, the phrase on Allied's Google Ads clearly stated: "Buy Portafab Today – We Manufacture/Install Direct." (Ex. A, Doc. 40.) A reasonable jury could find that Allied's use of the Porta-Fab mark here sought to capitalize on Porta-Fab's goodwill by advertising Allied as a manufacturer of Porta-Fab's products. Multi Time Mach., Inc., 804 F.3d at 936. And accordingly, a reasonable jury could find that Allied's advertisements are likely to confuse a reasonably prudent consumer as to whether Allied sells Porta-Fab products.
Notably, there were 2,494 impressions for ads that displayed the term "Portafab," which then resulted in approximately 85 to 102 clicks. But "[n]one of the clicks led to sales."
A few months afterwards, rather than prepare for trial, the parties settled. A joint notice requesting dismissal was filed on November 14, 2022, which was granted by the court the next day on November 15, 2022.
The attorneys at Thomas P. Howard, LLC litigate trademark cases nationwide including in Colorado.