By James Juo.
The academic debate as to whether artificial intelligence ("AI") can be an "author" of  creative works for purposes of copyright is becoming less academic. Advocates of AI exceptionalism argue that AI is able to make functionally creative output in the absence of a traditional human author and AI-generated works should be protectable under copyright law. On the other hand, others argue that AI doesn't pose any challenge to existing IP laws that assume humans must take some legally significant action, and AI is simply not relevant unless and until legislatures update those IP laws to contemplate non-human actors.
On November 3, 2018, Steven Thaler ("Thaler") filed an application to register a copyright claim for a two-dimensional artwork titled "A Recent Entrance to Paradise" ("Work") as an academic project to test the legal standards for copyright.
The author of the Work was identified as the "Creativity Machine," with Thaler listed as the claimant alongside a transfer statement: "ownership of the machine." Specifically, in the application, Thaler included a note stating that the Work "was autonomously created by a computer algorithm running on a machine" and he was "seeking to register this computer-generated work as a work-for-hire to the owner of the Creativity Machine."
The Copyright Office initially refused to register the claimed Work, finding it "lacks the human authorship necessary to support a copyright claim." Initial Letter Refusing Registration from U.S. Copyright Office to Ryan Abbott (Aug. 12, 2019).
Thaler subsequently requested that the Office reconsider its initial refusal to register the Work, arguing that "the human authorship requirement is unconstitutional and unsupported by either statute or case law." Letter from Ryan Abbott to U.S. Copyright Office at 1 (Sept. 23, 2019) ("First Request").
After reviewing the Work in light of the points raised in the First Request, the Office re-evaluated the claims and again concluded that the Work "lacked the required human authorship necessary to sustain a claim in copyright" because Thaler had "provided no evidence on sufficient creative input or intervention by a human author in the Work." Refusal of First Request for Reconsideration from U.S. Copyright Office to Ryan Abbott at 1 (March 30, 2020). The Office also stated that it would not "abandon its longstanding interpretation of the Copyright Act, Supreme Court, and lower court judicial precedent that a work meets the legal and formal requirements of copyright protection only if it is created by a human author." Id. at 1–2.
In a second request for reconsideration, Thaler renewed his arguments that the Office's human authorship requirement is unconstitutional and unsupported by case law. Letter from Ryan Abbott to U.S. Copyright Office (May 27, 2020) ("Second Request"). The Second Request argued the public policy that copyrights in machine-generated works "should" be registered because doing so would "further the underlying goals of copyright law, including the constitutional rationale for copyright protection." Second Request at 2. Thaler also asserted that "there is no binding authority that prohibits copyright for [computer-generated works]," that copyright law already allows non-human entities to be authors under the work made for hire doctrine, and ultimately that the Copyright Office "is currently relying upon non-binding judicial opinions from the Gilded Age to answer the question of whether [computer-generated works] can be protected."
On February 14, 2022, the Review Board of the United States Copyright Office ("Copyright Board") affirmed the refusal. Accepting, as a threshold matter, Thaler's representation that the Work was autonomously created by artificial intelligence without any creative contribution from a human actor, the Copyright Board noted that:
Thaler must either provide evidence that the Work is the product of human authorship or convince the Office to depart from a century of copyright jurisprudence. He has done neither.…
Because Thaler did not assert that the Work was created with contribution from a human author, the only issue before the Copyright Board is whether "the Office's human authorship requirement is unconstitutional and unsupported by case law."
After reviewing the statutory text, judicial precedent, and longstanding Copyright Office practice, the Board again concludes that human authorship is a prerequisite to copyright protection in the United States and that the Work therefore cannot be registered.
* * *
Courts interpreting the Copyright Act, including the Supreme Court, have uniformly limited copyright protection to creations of human authors.
* * *
In addition to the Supreme Court precedent, lower courts have repeatedly rejected attempts to extend copyright protection to non-human creations. [citing Naruto v. Slater, 888 F.3d 418, 426 (9th Cir. 2018) (the monkey selfie case), among other cases]
The Copyright Board also held that "Thaler's secondary argument, that artificial intelligence can be an author under copyright law because the work made for hire doctrine allows for 'non-human, artificial persons such as companies' to be authors, is similarly unavailing." Such a work is created as the result of a binding legal contract—an employment agreement or a work-for-hire agreement—and "the 'Creativity Machine' cannot enter into binding legal contracts and thus cannot meet this requirement."
Accordingly, the Copyright Board affirmed the refusal to register the copyright claim in the AI-created Work because copyright law is limited to creations of human authors.
Eric Goldman's Technology & Marketing Law Blog cheekily noted that "Naruto agrees"!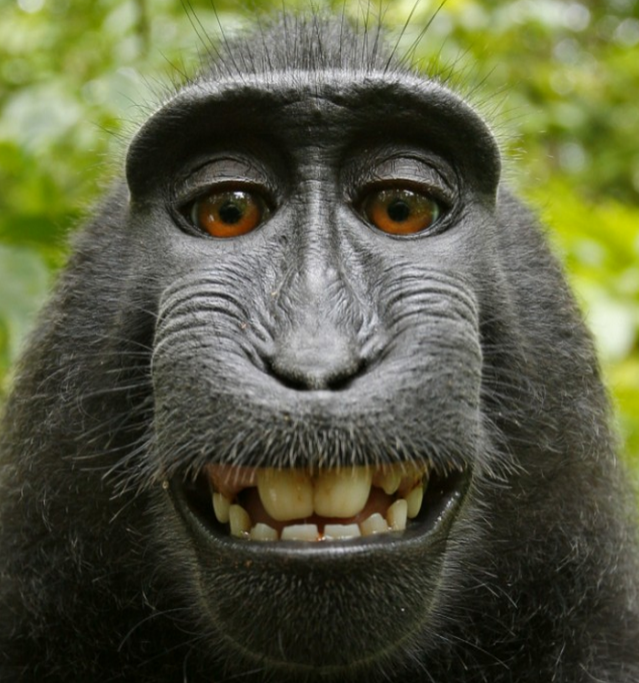 The copyright attorneys at Thomas P. Howard, LLC are experienced in enforcing copyrights or defending against infringement claims in litigation nationwide including in Colorado.